El baile me ha dado tanta salud y satisfacción que desde muy joven he querido compartir esa sensacion con otros. Me inicié como bailarina en 1990, aprendiendo danzas del folclor colombiano, salsa y porro (un genero local similar a la cumbia). En 1991 conocí el Break Dance, una de las expresiones de la Cultura Hip Hop, más tarde tambien, conocí el baile coreográfico que proviene del Hip Hop y al que llamamos Salto Bajo en Colombia.
Aquí encontrarás el proceso de mis grupos de baile desde 1993 hasta la fecha presente. Los veras de abajo hacia arriba en orden cronológico.
Dancing has given me so much health and satisfaction that from a very young age I have wanted to share that feeling with others. I started as a dancer in 1990, learning Colombian folk dances, salsa and porro (a local genre similar to cumbia). In 1991 I got to know the Break Dance, one of the expressions of the Hip Hop Culture, later I also got to know the choreographic dance that comes from Hip Hop and which we call in Colombia Salto Bajo.
Here you will find the process of my dance groups from 1993 to the present date. You will see them from bottom to top in chronological order.
2022 El grupo Alkimixtas nació gracias a la iniciativa del breaker vieja escuela Alejandro García que vió en el pueblo de Jericó la necesidad y el deseo por aprender a bailar Hip Hop. Fredy Isaza, otro hermano breaker vieja escuela, estuvo al frente de lograr que el grupo llegara hasta sus primera presentación. Ambos miembros del antiguo grupo de breakdance Los Lunatikos con orgullo presentaron sus pupilos que con mi apoyo desde el Internet logramos consolidar este nuevo grupo. Aquí empieza el canal en YouTube Alkimixtas donde se enseñan en linea las coreografias.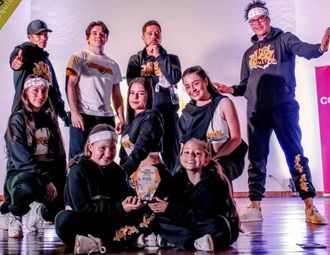 2022 The Alkimixtas group was born thanks to the initiative of the old school breaker Alejandro García who saw in the town of Jericó the need and desire to learn to dance Hip Hop. Fredy Isaza, another old school breaker brother , was at the forefront of getting the group through their first performance. Both ex-members of the old school breakdance group Los Lunatikos, proudly presented their pupils who, with my support from the Internet, achieves to consolidate this new group. Here begins the channel on YouTube Alkimixtas where the choreographies are taught online.
En el 2017 bajo el sistema de ensenanza por Internet se crearon las coreografías para los videos de la canciones Hija del Hip Hop y Yo Soy de MC Natrix con el apoyo de Andrea García, Cristina Carmona, Estefany Arcila y Shara Garcia.
In 2017, with Internet teaching system, choreographies were created for the videos of the songs Hip Hop's Daughter and Yo Soy by MC Natrix and Andrea García, Cristina Carmona, Estefany Arcila y Shara Garcia.