Baile con Consciencia/ Dance with Awareness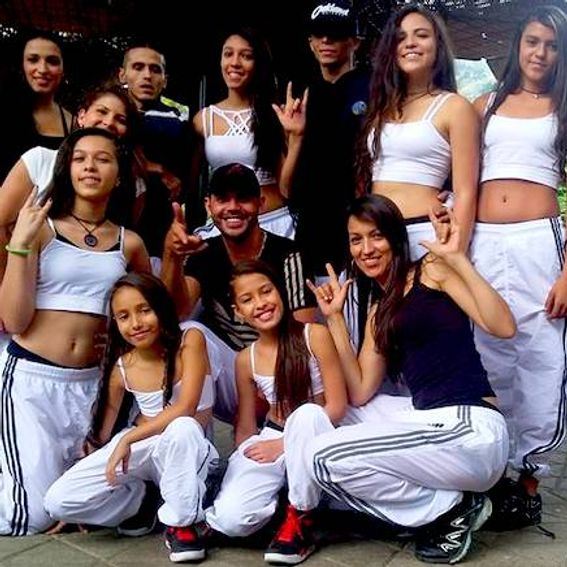 El baile me ha dado tanta salud y satisfacción que desde muy joven he querido compartir esa sensacion con otros. Me inicié como bailarina en 1990, aprendiendo danzas del folclor colombiano, salsa y porro (un genero local similar a la cumbia). En 1991 conocí el Break Dance, una de las expresiones de la Cultura Hip Hop, más tarde tambien, conocí el baile coreográfico que proviene del Hip Hop y al que llamamos Salto Bajo en Colombia.
Dancing has given me so much health and satisfaction that from a very young age I have wanted to share that feeling with others. I started as a dancer in 1990, learning Colombian folk dances, salsa and porro (a local genre similar to cumbia). In 1991 I got to know the Break Dance, one of the expressions of the Hip Hop Culture, later I also got to know the choreographic dance that comes from Hip Hop and which we call in Colombia Salto Bajo.
 Así en 1993 ya estaba creando el primer grupo femenino de Salto Bajo en la ciudad de Medellin llamado Another Bad Creation, un grupo con 6 niñas entre los 9 y los 11 anos de edad. De izquierda a derecha: Vilma, Paula Parra, Juliet, Slap, Denis, Alba Yuri.
 Thus, in 1993 he was already creating the first Salto Bajo female group in the city of Medellin called Another Bad Creation, a group with 6 girls between 9 and 11 years old. From left to right: Vilma, Paula Parra, Juliet, Slap, Denis, Alba Yuri.
En 1994 me uní a Marcela Gutierrez y a Olguita quien es ahora la rapera Taya Tira, a quienes debo mis mejores momentos como bailarina. Juntas conformamos el grupo B.O.W. (Black Or White).
In 1994 I joined Marcela Gutierrez and Olguita who is now rapper Taya Tira, to whom I owe my best moments as a dancer. Together we formed the group B.O.W. (Black Or White).